The 1880 Shield Nickel (Buy on eBay) is the well-known key date of the series and one of the rarest circulation strike nickels ever produced. There was a scant mintage of only 16,000 pieces and attrition from circulation was high, leaving very few surviving examples. The total number of surviving circulation strikes has been estimated to be as low as 125 pieces across all grades.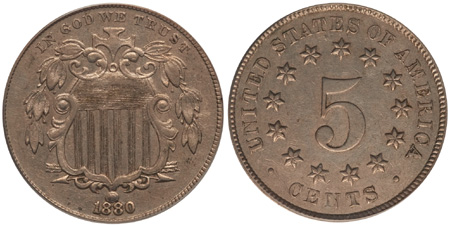 This date is actually more available in proof version, which had a mintage of 3,955 pieces. Although the mintage is numerically lower than the circulation strike figure, more remain available since the proof coins were more likely retained by collectors.
The highest graded examples of the circulation strike are a few examples graded MS66. An 1880 Shield Nickel graded NGC MS 65 sold for $40,250 at an auction held in June 2010.
Other low mintage years include the 1879 with 25,900 produced and the 1881 with 68,800 produced.
Coin Specifications
Designer: James B. Longacre
Composition: 75% Copper, 25% Nickel
Weight: 5 grams
Diameter: 20.5 mm
Edge: Plain