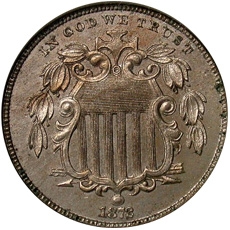 The Shield Nickel was authorized on May 16, 1866 and struck for circulation beginning in the same year. Until the conclusion of the series in 1883, all coins were struck at the Philadelphia Mint. This included coins struck for circulation as well as proof coins struck for collectors.
After relatively high mintages for the first years of the series, production gradually declined to the point that circulating coins were not minted for two years of the series in 1877 and 1878. For the following three years, production remained at extremely low levels, leading to the creation of the key date 1880 Shield Nickel.
Higher mintages were recorded in 1882 and 1883. The latter year would see the series replaced with a new design known as the Liberty Head Nickel.
The table below contains the complete mintage figures for circulation strike Shield Nickels.
1866-1883 Shield Nickel Mintages
| Issue | Mintage |
| --- | --- |
| 1866 | 14,742,500 |
| 1867 Rays | 2,019,000 |
| 1867 No Rays | 28,890,500 |
| 1868 | 28,817,000 |
| 1869 | 16,395,000 |
| 1870 | 4,806,000 |
| 1871 | 561,000 |
| 1872 | 6,036,000 |
| 1873 | 4,550,000 |
| 1874 | 3,538,000 |
| 1875 | 2,097,000 |
| 1876 | 2,530,000 |
| 1877 | Proof Only |
| 1878 | Proof Only |
| 1879 | 25,900 |
| 1880 | 16,000 |
| 1881 | 68,800 |
| 1882 | 11,472,900 |
| 1883 | 1,451,500 |