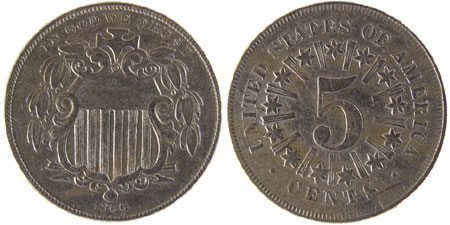 The Shield Nickel was the first five cent coin struck using nickel as part of the composition. Specifically, the composition was 75% copper and 25% nickel, the same alloy used for the denomination through the present day. Each coin has a weight of 5 grams (77.19 grains) and diameter of 20.5 mm, with a plain edge.
No coins were minted at any of the branch mints for the duration of the series, resulting in no pieces with mintmarks.
Shield Nickels were designed by James B. Longacre. The series was minted from 1866 to 1883, at which point it was replaced by the Liberty Nickel designed by Charles E. Barber.
Dates: 1866 -1883
Mint Mark: none
Composition: 75% copper, 25% nickel
Weight: 5 grams
Diameter: 20.5 mm
Edge: plain
Designer: James B. Longacre