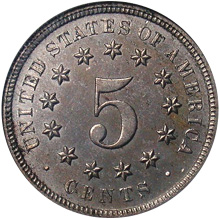 Proof Shield Nickels (Buy on eBay) were struck each year between 1866 and 1883, including the two years when the coins were not struck for circulation. Although proof coin mintages were significantly lower than circulating coin mintages, in most instances the proofs are more readily available since a great proportion of the coins were saved by collectors.
The rarest proof coin is the 1867 Proof Shield Nickel with Rays. This coin was created amidst a modification to the reverse design of the coin. Early in the year, the rays between the thirteen stars on the reverse were removed. A very small number of proof coins were struck with rays, creating a significant rarity for the series.
Two other issues of focus are the 1877 and 1878 Proof Shield Nickels. No coins were struck for circulation during these years, meaning that collectors seeking a representative for these dates must acquire proof coins. This leads to greater demand and higher prices for these issues even though.
1866-1883 Proof Shield Nickel Mintages
| Date | Mintage |
| --- | --- |
| 1866 with rays | 600+ |
| 1867 with rays | 25+ |
| 1867 without rays | 600+ |
| 1868 | 600+ |
| 1869 | 600+ |
| 1870 | 1,000+ |
| 1871 | 960+ |
| 1872 | 960+ |
| 1873 | 1,100+ |
| 1874 | 700+ |
| 1875 | 700+ |
| 1876 | 1,150+ |
| 1877 | 510+ |
| 1878 | 2,350 |
| 1879 | 3,200 |
| 1880 | 3,955 |
| 1881 | 3,575 |
| 1882 | 3,100 |
| 1883 | 5,419 |